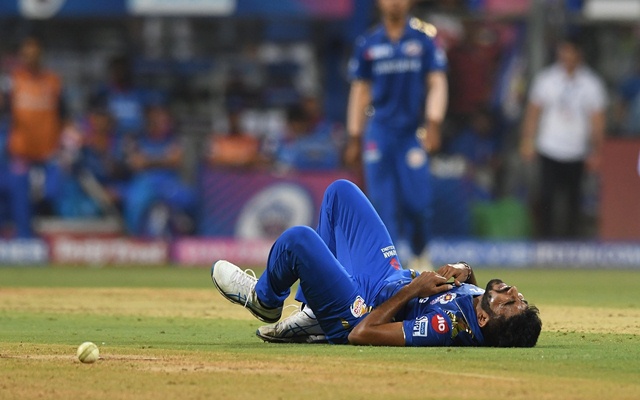 The Indian pace sensation Jasprit Bumrah has been facing some lows in his career over a period of time. In the season opener that Mumbai Indians played against Chennai Super Kings, Bumrah couldn't achieve a decent start. In a span of four overs, he conceded 43 runs to achieve only one wicket. The Blue squad lost the game by five wickets as the duo of Faf Du Plessis, and Ambati Rayudu became too heavy on opponents.
The four-time champions are now set to take against Dinesh Karthik-led Kolkata Knight Riders in the next match of the season. Now the vital question remains, will Bumrah pick back his form in the coming match? Pacer Trent Boult believes that the Mumbai pacer is trying hard to find back his rhythm and get into form.
"He (Bumrah) is a world-class bowler, he is trying very hard over the last couple of days to find the rhythm. I am 100 per cent sure he will be on the mark in the coming games. "He is a big player for us and a very important bowler, and I am sure he will bounce back very nicely," Boult said as quoted by Hindustan Times.
Throwing light on his partnership with Bumrah, Boult believes that it is a good opportunity to learn. Bumrah has a lot of experience, and an amazing set of skills, and the New Zealand pacer is looking forward to achieving huge success with him in the season.
Jasprit Bumrah is a guy who is very experienced: Trent Boult
"Yes, the opportunity to bowl with Bumrah and the other guys in the bowling attack is very exciting and a good opportunity to learn. And yes, Bumrah is a guy, who is very experienced, and he has got some amazing, and I'm really looking forward to hopefully having some success with him," Boult added.
The 31-year-old pacer stated that he was quite satisfied with his performance in the season opener. He came up with figures of 1/23, but the team couldn't get up to the mark. He believes that coming from a long lockdown period, it is a fine start for him, and he will get better in days to come.
Source: Cricket News – CricTracker