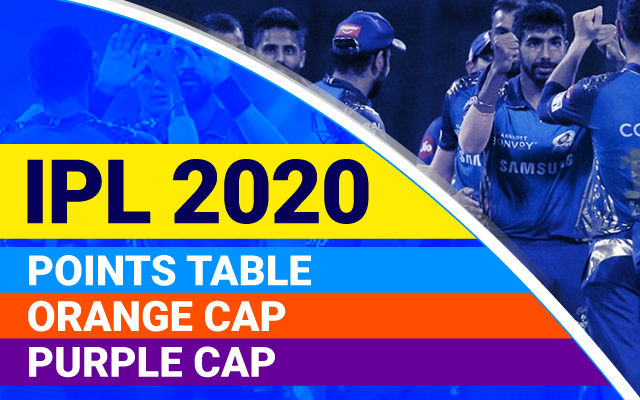 The 13th match of the Indian Premier League (IPL) saw the fun-filled action between Mumbai Indians and Kings XI Punjab on the field of Abu Dhabi. Batting first, Rohit Sharma and his men posted a huge 191/4 on board, courtesy skipper's brilliant knock of 70 off 45 balls. Mumbai clinched the victory by a comfortable margin of 48 runs.
The team was going in a medium pace in their middle of the innings until the duo of Hardik Pandya and Kieron Pollard started wreaking havoc on Punjab bowlers. Pollard's 47 off 20 and Pandya's 30 off 11 accelerated Mumbai's end game like a fire, and the team gathered a massive 25 runs in the last over.
Pollard was awarded the man of the match for his lightning innings. Sheldon Cottrell remained impressive conceding only 20 runs in his spell, but James Neesham came as a costly affair for Punjab.
Bumrah is back with a bang for Mumbai
Chasing the heavy target, the otherwise robust opening stand of Mayank Agarwal and KL Rahul didn't work well for the team today. Nicholas Pooran's 44 off 27 was the only bright and significant spot in Punjab's batting line-up. It felt like Jasprit Bumrah found his lost rhythm as he conceded only 18 runs in his span of four overs and sent back Mayank Agarwal and James Neesham.
Who has Orange and Purple Cap?
After winning a great contest against Punjab, Mumbai Indians have sealed the top spot on the points table. The second spot has Delhi Capitals and they are followed by Kolkata Knight Riders in 3rd and Rajasthan Royals in the 4th place.
The Orange cap has now moved to Mayank Agarwal, who has 246 runs in his account in IPL 2020. The second place is reserved by his teammate, KL Rahul. Faf du Plessis and Rohit Sharma are on 3rd and 4th positions in the race of Orange Cap.
The possession of the purple cap has now moved to Mohammed Shami, who has eight dismissals to his credit. Next in line is Kagiso Rabada, with seven wickets. Sheldon Cottrell, Rahul Chahar, and Trent Boult have seven wickets each to their credit.
List of top run-scorers in IPL 2020 – Orange Cap Holder
| | | | | | | | | | | |
| --- | --- | --- | --- | --- | --- | --- | --- | --- | --- | --- |
| Sr No | Player | Team | Matches | Innings | Runs | Average | SR | 4s/6s | 100/50s | Best |
| 1 | M Agarwal | KXIP | 4 | 4 | 246 | 61.50 | 166.21 | 24/11 | 1/1 | 106 |
| 2 | KL Rahul | KXIP | 4 | 4 | 239 | 79.66 | 148.44 | 24/9 | 1/1 | 132* |
| 3 | Faf du Plessis | CSK | 3 | 3 | 173 | 86.5 | 149.14 | 11/7 | 0/2 | 72 |
| 4 | Rohit Sharma | MI | 4 | 4 | 170 | 42.50 | 145.29 | 13/10 | 0/2 | 80 |
| 5 | Sanju Samson | RR | 3 | 3 | 167 | 55.67 | 201.20 | 6/16 | 0/2 | 85 |
| 6 | K Pollard | MI | 4 | 4 | 138 | 138 | 212.30 | 8/10 | 0/1 | 60* |
| 7 | AB de Villiers | RCB | 3 | 3 | 134 | 67 | 186.11 | 12/7 | 0/2 | 55* |
| 8 | Ishan Kishan | MI | 2 | 2 | 127 | 63.5 | 141.11 | 3/10 | 0/1 | 99 |
| 9 | Shubman Gill | KKR | 3 | 3 | 124 | 62 | 115.89 | 11/3 | 0/1 | 70 |
| 10 | Steve Smith | RR | 3 | 3 | 122 | 40.67 | 150.62 | 11/6 | 0/2 | 69 |
List of most wicket-takers in IPL 2020 – Purple Cap Holder
| | | | | | | | |
| --- | --- | --- | --- | --- | --- | --- | --- |
| Sr No | Player | Team | Matches | Innings | Wickets | Average | Best |
| 1 | M Shami | KXIP | 4 | 4 | 8 | 14.75 | 3/15 |
| 2 | K Rabada | DC | 3 | 3 | 7 | 10.71 | 3/26 |
| 3 | Sheldon Cottrell | KXIP | 4 | 4 | 6 | 18.83 | 2/17 |
| 4 | Rahul Chahar | MI | 4 | 4 | 6 | 19.83 | 2/26 |
| 5 | Trent Boult | MI | 4 | 4 | 6 | 21.50 | 2/30 |
| 6 | Sam Curran | CSK | 3 | 3 | 5 | 17.6 | 3/33 |
| 7 | Y Chahal | RCB | 3 | 3 | 5 | 18.20 | 3/18 |
| 8 | J Pattinson | MI | 4 | 4 | 5 | 26.20 | 2/25 |
| 9 | J Bumrah | MI | 4 | 4 | 5 | 27 | 3/18 |
| 10 | M Ashwin | KXIP | 2 | 2 | 4 | 9.25 | 3/21 |
Here's the IPL 2020 points table in detail:
| | | | | | | | |
| --- | --- | --- | --- | --- | --- | --- | --- |
| Position | Team | Matches | Won | Lost | NR | Points | NRR |
| 1 | MI | 4 | 2 | 2 | 0 | 4 | 1.094 |
| 2 | DC | 3 | 2 | 1 | 0 | 4 | 0.483 |
| 3 | KKR | 3 | 2 | 1 | 0 | 4 | 0.117 |
| 4 | RR | 3 | 2 | 1 | 0 | 4 | -0.219 |
| 5 | RCB | 3 | 2 | 1 | 0 | 4 | -1.45 |
| 6 | KXIP | 4 | 1 | 3 | 0 | 2 | 0.521 |
| 7 | SRH | 3 | 1 | 2 | 0 | 2 | -0.22 |
| 8 | CSK | 3 | 1 | 2 | 0 | 2 | -0.84 |
Source: Cricket News – CricTracker