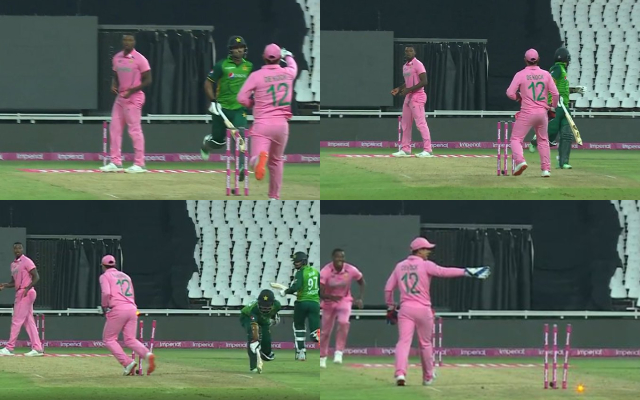 The MCC has given its verdict on Fakhar Zaman's controversial run-out during the second ODI between South Africa and Pakistan on Sunday. The Pakistan opener's scintillating knock of 193 came to a controversial end after South Africa wicketkeeper, Quinton de Kock, appeared to signal that a throw from the deep was heading to the bowler's end.
Seeing de Kock's gesture, Fakhar slowed down in the belief that the ball wasn't coming to his end only to regret it soon. Before the left-handed batsman could realise what was going on, a stunning throw from Aiden Markram's hit the stumps at the keeper's end, catching the batsman short of his ground. The incident took place in the very last over of the game.
South Africa went on to win the match by 17 runs to draw level in the three-match series. Asked to bat first, the hosts scored 341 for 6 in the allotted 50 overs. Skipper Temba Bavuma top-scored with 92 while de Kock, Rassie van der Dussen and David Miller scored the fifties too. In reply, Pakistan finished their innings on 324 for 9.
MCC explains the rule
While the on-field umpire did not take any action against de Kock for trying to deceive Fakhar, his action sparked a huge debate on social media. Several quarters insisted that de Kock's action was not within the laws of the game. Some also slammed the officials for not punishing South Africa for 'fake fielding'.
And as the debate goes on, the MCC has explained that it was 'up to the umpires to decide' if de Kock attempted to 'distract' or 'deceive' the batsman.
Taking to their official Twitter account, MCC Twitter posted the relevant law relating to Fakhar's dismissal:
Law 41.5.1 states: "It is unfair for any fielder wilfully to attempt, by word or action, to distract, deceive or obstruct either batsman after the striker has received the ball."
Explaining further, the MCC tweet added: "The Law is clear, with the offence being an ATTEMPT to deceive, rather than the batsman actually being deceived. It's up to the umpires to decide if there was such an attempt. If so, then it's Not out, 5 Penalty runs + the 2 they ran, and batsmen choose who faces next ball."
The Law is clear, with the offence being an ATTEMPT to deceive, rather than the batsman actually being deceived.

It's up to the umpires to decide if there was such an attempt. If so, then it's Not out, 5 Penalty runs + the 2 they ran, and batsmen choose who faces next ball.

— Marylebone Cricket Club (@MCCOfficial) April 4, 2021
Watch Ben McDermott's Rapid Fire:
Source: Cricket News – CricTracker