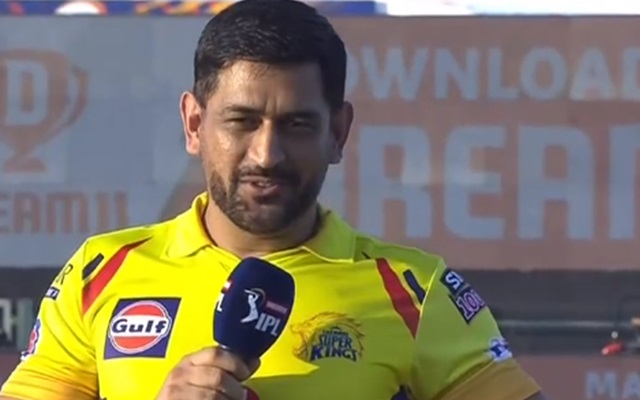 In the opening game of the 2020 Indian Premier League (IPL), Chennai Super Kings (CSK) found themselves in trouble during their run-chase against the Mumbai Indians (MI). However, MS Dhoni, who's deemed to be a successful finisher, came to bat at number seven. At that point in time, CSK needed 10 runs at around a run-a-ball and he had to play only two dot balls.
When the Super Kings were chasing 163, the Jharkhand-born Dhoni promoted Sam Curran and Ravindra Jadeja ahead of him. The move paid dividends and CSK won by five wickets with four balls to spare. On promoting them up the order, the 39-year-old Dhoni said that he wanted them to intimidate the bowlers, especially Krunal Pandya and Rahul Chahar.
MS Dhoni opines
"One thing we haven't done is… people keep saying if you keep doing the same thing, you'll keep getting the same result. I don't think we're disappointed with the result but at some point of time I feel we need to give Jadeja and somebody like Sam a chance to go up the order and express themselves," Dhoni told in the presentation ceremony.
"This was an ideal scenario because if you look at their bowling, you have two overs of spinners with one leg spinner (Rahul Chahar) and a left arm (Krunal Pandya). It was an ideal way of saying we are going to intimidate the bowler by saying okay he has been sent to do one thing – swing.
"Doesn't mean he'll hit everything but it was a psychological thing of saying that okay, we have batsmen and we bat deep, so we'll send one or two of them up to hit a few," Dhoni added.
Jadeja came in after Chahar got rid of Ambati Rayudu, who got a 48-ball 71. Jadeja smashed a couple of fours for a 5-ball 10 and perished to Krunal. Curran, on the other hand, smoked one four and three sixes in his 6-ball 18 before Jasprit Bumrah pinned him.
They ensured that CSK never went behind the 8-ball in their run-chase. Curran and Jadeja also had their fair share of success with the ball in hand. Even as Curran dismissed Quinton de Kock, Jadeja got rid of Saurabh Tiwary and Hardik Pandya.
Source: Cricket News – CricTracker